2017 New HD handle Colorectal camera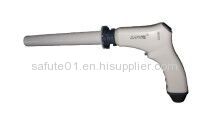 We are seeking global co-operation agents for our products.
Handheld HD Diagnosis device Colorectal Camera
1.Function
This camera is used mainly for Colorectal diseases diagnosis .
2.Product composition
The camera is composed by the body, speculum etc; The speculum is supporting the use of disposable supplies and body.
The Colorectal camera performance parameters are as below :
1.CMOS size: Panasonic 1/3 inch
2. Resolution:1080P, 2.1 million pixels
3.Light Intensity: 0~5 grade
4.Lens: HD22mm fixed-focus
5.Focus range: 110mm~150mm
6.Lens mount: F22 C M16x1
7.Light work time: >20000h
8. Color Temperature: 6000K±500K
And the Disposable colorectum endoscope : (12pcs)
1. Size 1( long): External tube150mm/ Internal tube size: 220mm (6pcs)
2. Size 2( short): External tube130mm/ Internal tube size: 160mm (6pcs)
3. Dimension of External tube: Φ18.6 mm; Internal Tube: Φ25
4. Material: Medical ABS
5. Package: Aseptic packaging of plastic bags